7th of August 18 till11th of May 19, Crete, Denmark, Crete and online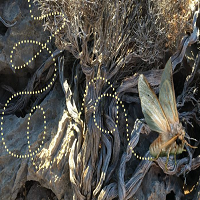 This 9 months – inner and outer journey – offers an opportunity to look into the darkness of our times and to get a deeper sense of what Life is calling for – within yourself and in society as such.
The program follows the cycle of nature's withdrawing into winter, the subtle life-process of 'future seeds' still sleeping, and the vitality and re-awakening as spring arrives.
CRETE – DENMARK – CRETE
We meet in the beginning, middle and end of the nine month cycle, including two one week retreats in wild nature at Crete, Greece, and three dark December days in the heart of Judland, Denmark.
The integration and transformation process is guided through monthly online facilitation. This alternation of live online learning and live on location – is designed to support continuity of the 'alchemical journey' of and to help participants maintain a set of inner practices.
PROGRAM
2018
August 7th – ONLINE – check in
September 8th-15th in CRETE – journey of descending
We spend a week outdoor in the remote nature of the south coast of Crete, Greece, at the foot of Lefka Ori – The White Mountains.
October/November ONLINE – follow ups
December 19th-21th in DENMARK – reconnect
We meet in the days of solstices, contemplating natures turning-point from dark into light, and deepening the understanding of perspectives and models. In Noerre Snede, 'the highlands' of Denmark
2019
January/February/March/April ONLINE – Inner journey of becoming
May 4th-11th in CRETE – journey of ascent
Completing the nine months 'rite of passage', we return to Crete, now to retrace our initial steps, sensing into 'what life calls you to',prepare for smallest possible changes and completing the program.
Coreteam & facilitators:
• Karsten Skipper, Denmark – exploring and renewing conceptions and mental models
• Ninni Sødahl, Norway – inviting the intuitive and creative openness
• Bjørn Winther, Denmark – sensing and being intimate with nature and body
Affiliate:
• Walter Bertolini, Austria – accessing the essence of inner leadership
Maximum number of participants is 22.
Prior experience with meditative practices, hiking and outdoor life is recommended, but not required. The program includes two, one week outdoor stays, where participants need to be able to carry a backpack, and prepared to sleep outdoors.
Cost:
12.000 dkr. / 1.650 €
The program fee includes 17 days on site training/seminars, 6 online gatherings, online resources, local transportation Crete, accommodation Crete and Denmark, study material.
Additional:
Travel to locations at own cost – to Crete (airport Chania) and the highlands of Denmark (airport Billund). 2×100€ cash for food etc. for the two weeks at Crete. Participants are required personal travel and risk assurance when going to Crete.
For additional information and Regristration go to our website:
Welcome!
Karsten Skipper, Ninni Sødahl, Bjørn Winther